We at Benel believe that the safe and effective delivery of an oil or gas Well starts with adequate planning, appropriate review of available data and the design of the Well with clear set of objectives and a robust risks mitigation and uncertainties management plan.
Well Delivery Plan
Safe Well Designs – ensuring control and containment during drilling
Relief Well Planning and Design
Provision of personnel to support of Well Delivery / P&A   
 A typical Benel WWC Incident Command Structure and internal controls used for managing wild well control emergencies is shown below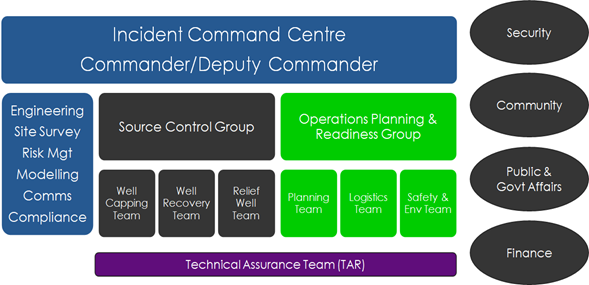 Figure 1: WWC/ERP Command Structure
Benel Wild Well Control simulation and Emergency Response modelling can be conducted at the Benel Learning and Simulation Centres in Lagos and Port-Harcourt.  The blow out contingency plan and relief well modelling are tested and calibrated with the Well control simulator hosted at the centres.